Upcoming AwW game

Cover photo

Developer(s)

Sun-Studios

Publisher/Sponsor

Unknown

Engine

Box2D Physics Engine or Flash (ActionScript 3.0)

Platform

Windows, Mac, Linux

Modes

Singleplayer Story, Co-Op (planned), Versus Mode (unknown)

Distributer(s)

Steam

Release Date

TBA 2016-17 (estimated)
Characters
Edit
The developer has confirmed that the story shall not be a continuation of the events of Armed with Wings 3 and is a reboot of the plot for the entire series with a story for every character. It is unknown if this starts with Rearmed or if it is in fact one game.
Development
Edit
The game was confirmed on 25th October, due to an opening of the official page for this game. Most work prior to Rearmed and Versus was on backstory for this game.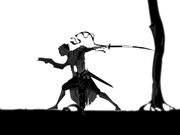 Unlike the previous games this will be a full release PC game downloadable through Steam.
If a publisher is found from the money made through steam the game will go to XBLA and PSN.
The game is planned to involve more playable characters.
The game will also have some form of multiplayer, either local or online (see Versus).
This game could be the first game to have duel-wield weapons you can see this on the cover photo.
http://www.facebook.com/pages/Armed-with-Wings/284488551663221?ref=ts&fref=ts
(For this game)
http://www.facebook.com/pages/Sun-Studios/183619865005787?fref=ts
(Developer)
http://www.facebook.com/ArmedwithWingsGame?fref=ts
(AwW series page)